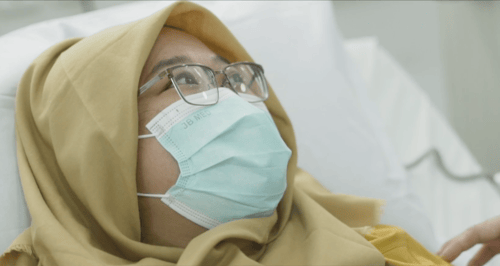 Before Qana Istiqoma Dewi began hemodialysis treatment, she was in poor health.
"I felt so weak that I limped when I walked," she says. But when Qana began treatment with the Fresenius Kidney Care Dialysis Center (RS Tugu Ibu) in Indonesia,
she noticed meaningful changes.
"After I started receiving dialysis, I could stand up straight and walk again. I could ride my motorcycle again".
Qana's kidney disease is now well-managed, thanks to ongoing dialysis from her clinical care team, which is aided by insights from EuCliD – the world's largest database for dialysis patients.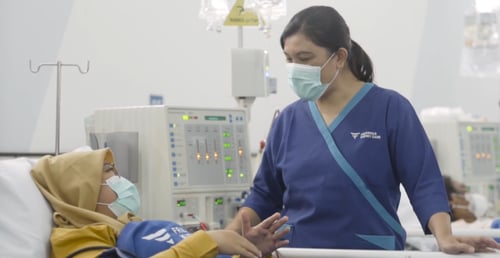 Modernizing patient treatment using EuCliD
Since 2018, Fresenius Medical Care has started to roll out the database across its network of clinics in the Asia Pacific region, transforming the way that patient data is used and collected.
By automatically recording data from scales, dialysis machines and lab reports, doctors now have even easier access to patient information, history, trends and data benchmarks. These tools provide healthcare professionals with efficiencies right at their fingertips, such as the ability to change prescriptions on their mobile electronic devices at their patients' bedsides.
With the help of artificial intelligence solutions, healthcare professionals can also create more sophisticated treatment plans that predict health outcomes and minimize risks, while involving patients in their own care.
When dialysis clinics have innovative technological solutions like EuCliD in place, there is great potential to improve the quality of patient care.
Empowering patients
For patients like Qana, EuCliD is making their treatments – and their lives – easier.
Data collection is seamlessly integrated into Qana's routine when she visits the clinic, from registration to weighing and her dialysis treatment, which enhances her overall patient experience.
Patients also have access to their own health information in real-time. Through mobile apps, patients can track their treatment progress and any suggested changes to their treatment plan, like dietary recommendations. This helps them feel more empowered and engaged in their treatment.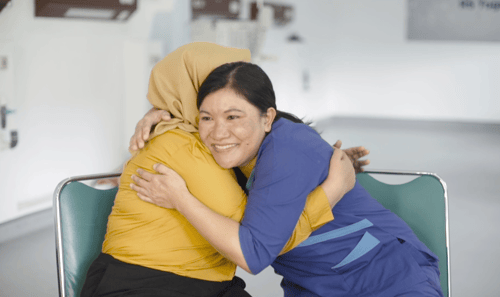 Deepening connections
By making data collection and management more efficient, EuCliD gives care teams more space in their day to focus on what matters most – providing personalized care to their patients, with more time to support and encourage them through their treatment.
For Qana's dialysis nurse, Dameria Purba, this is an important part of fulfilling her responsibility to her patients, and to her own family:
"I became a nurse to honor my mother's wish," she says. "Being a dialysis nurse is a unique experience. I chat with my patients, enjoy our time together and cheer them on to achieve wellbeing.
"As the 10,001st patient on EuCliD, Qana has an amazing attitude. I am proud to be her nurse. She encourages other patients and gives positive energy to the nurses. So I fight for her, as she fights for herself".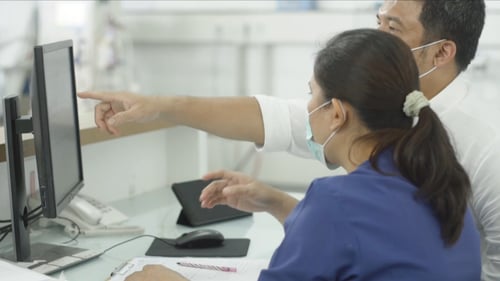 Harnessing data to transform kidney care
EuCliD is opening the door to a world of possibilities that bring the future of kidney care into the present day, particularly through artificial intelligence and machine learning technologies that predict treatment outcomes.
This helps doctors to develop robust treatment plans, using tools like the anemia control model, AV fistula failure risk score, and hospitalization prediction.
As well as adding value to medical decisions in the moment, this enables large-scale clinical research to continually improve kidney care.
"EuCliD is taking innovations in medical technology to the next level, elevating dialysis patient care and treatment outcomes," says Dr. Milind Nikam, Vice President of Clinical Affairs at Fresenius Medical Care's Global Medical Office.
"I applaud our teams for their enthusiasm in driving the rollout of EuCliD – from the first patient to the 10,001st and beyond. We have set a high bar for what sophisticated dialysis clinics look like now, and look forward to what the future holds as we introduce smart data solutions to even more clinics and patients, and continue to advance technologies that aid healthcare professional decision-making and the future of dialysis".